Creating a Completely Custom Battle-Ready Formulation 
Interview with RuckPack Creator, Rob Dyer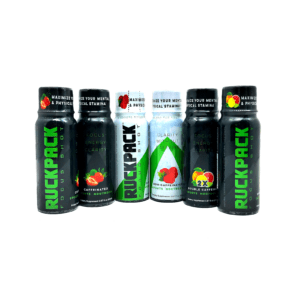 Major Rob Dyer was on deployment to Afghanistan with Marine Special Operations Command when it struck him that he might have an idea for a successful business.
Tested daily by a job that demanded top physical and mental acuity in the midst of harsh conditions, Dyer and his team were well-acquainted with the wide array of performance supplements on the market. "We were frustrated that there didn't seem to be one single readily available small drink that had everything we needed to keep us sharp and energized during long missions," says Dyer. He realized that others likely shared his frustration and went to work conceptualizing the product that would eventually become RuckPack.
RuckPack has appeared on a number of media outlets, most notably ABC's Shark Tank where the product won investments from two "Sharks." Today, you can find RuckPack for sale on the company's website and in the aisles of Walgreens. Dyer credits HSM with helping his supplement attain its success. "After we linked up with HSM, we were able to launch a product that was complete by our standards," he says.
Learn about RuckPack's decade-long partnership with HSM and what they love about HSM's customized process in our interview with Rob Dyer below.
Q: How were you first introduced to The GHT Companies and HSM?
A: We were all stationed in Camp Pendleton and wanted to find a supplement manufacturer close to "home." Plus, being in California we knew they would uphold the strictest standards of manufacturing practices which was paramount in our business plan: clean ingredients, clean facilities. 
---
Q: What was the primary capability or attribute that you were searching for in a partnership with a supplement formulation and manufacturing company?
A: Actually, we were looking for something far less than what HSM brought to the table, and for our sake it was the best choice we could have made at the time. Really, we wanted someone clean and professional who would make exactly what we wanted in a bottle. HSM helped us realize that what we wanted was unrealistic and probably tasted disgusting. They went above and beyond to provide a more scientific approach, and that addition became standard for any product we have created thereafter: will the company work with us to create a product from scratch with the specific symptoms we are looking to cure? If the manufacturer can't partner with us as well as HSM to create it, we move on.
---
Q: What did HSM help you achieve?
A: To be honest, we were a mess when we walked through HSM's doors. We knew the ingredients we were taking to perform the way we wanted to, but did not realize how those ingredients worked together. We also didn't realize there were other ingredients that actually acted synergistically when combined. HSM's extremely patient staff helped us take a more strategic view of what we wanted to accomplish, and we let them take the tactical approach of going about mixing the right ingredients for the perfect shot.
---
Q: What made a partnership with HSM stand out as the best choice over other potential partnerships?
A: A lot has changed in manufacturing since we started making shots in 2012. I can't turn on social media without being pitched for a new manufacturer, and they are all very quick to tell me exactly what I need and why we should switch to their company. Instead of partnering, we end up being shoved into a premade formula that "will be a market leader if we just add our branding to it." HSM has always worked with us to create our products, every single time, without fail. They have absolutely created winning formulas of their own and they are all too happy to have us license the product and sell it as our own. But they never shove their formula on us and that patience is why we're still with them almost a decade later. 
---
Q: Has HSM improved your product offerings? If so, how? 
A: I've often told people (and HSM can attest to this!) that "no two RuckPack runs are the same." Although it's not meant to be literal, life, technology, ingredients, and science all change with time and HSM always brings new information to us (and allows us to bounce ideas off them as well). We've changed our formula, literally, more times that I can count throughout all the years we've been together. I love that though. It means we stay fast and that we adapt with changes as they happen. It ensures that every time we put out a shot, it's the cleanest, healthiest, best all-around shot on the market, and we keep it that way.
---
Q: What would you say to a fellow supplement company considering HSM as their manufacturing partner? 
A: Unless you spent all your years as a supplement manufacturer in the lab, you really need a partner like HSM that is going to work with you to bring your product to market. They can absolutely be turnkey if you need them to be and want to just take something and run with it. But, if you want to create something out of a need that you don't see filled in the market, HSM specializes in that realm. So from "just give me something and I'll run with it" to "I had a dream last night and I want to make something no one has ever seen or heard of," HSM is the one single place I've found that does it all. On top of all that, they truly partner with the company to ensure success on all sides as opposed to forcing you into a large initial purchase order, not caring if you ever do a second order or not.
Ready to Create Your Own Custom Formula?
Leverage our Expertise.